Following interior design trends is a straightforward way to spruce up your home, especially when starting with a blank canvas. There are many ways to draw inspiration, from colour schemes to furniture styles.
There's an interior design style for every taste, and no rules say you have to stick to just one style. You can merge interior design trends to create a personalised home that says a lot about you and your family.
Here are some easy interior design trends to incorporate into your home:
Set a theme with monotone colours
Monotone colour schemes have one hue and use infinite hue variations for tints, shades, and tones. For example, if you choose grey as a hue, you can decorate in any grey on the colour scale to create fantastic depth.
Instil positivity with pastels
Whether making a feature wall or peppering in furniture, pastel colours create a fantastic addition to every home with their timeless appeal. Bright colours are also great for instilling positive energy into your home.
Inject sophistication with Dusky blues
If you want to create a sophisticated, elegant vibe, dusky blue is the perfect colour for painted walls, features, and wallpapers. Bedroom feature walls look fantastic in dusky blue, especially with brass or copper fixings.
Introduce nature with houseplants and bonsai trees
Nature reduces anger, fear, and stress and makes your home look nicer, so houseplants and bonsai trees are a no-brainer. Anything green makes an enormous difference to the feel of a home, especially in bedrooms and living spaces.
Increase visual bedroom space with a low bed
Low beds sit close to the floor to increase vertical viewing space, making small bedrooms appear larger than they are. While they lack storage, low beds have a lounging vibe that will make your bedroom your favourite room.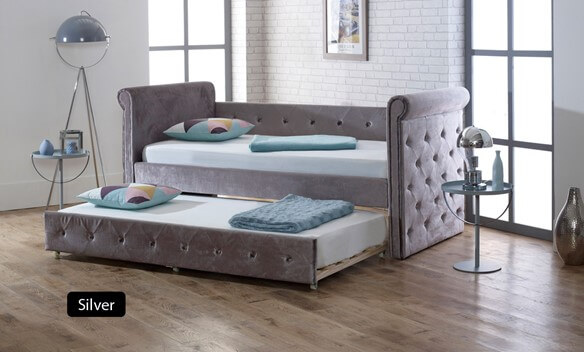 Pictured: Zodial Day Bed With Trundle Available from Bedstar The Online Bed Superstore.
Make dinner great with a bench dining table
Bench dining tables offer more seating with less clutter and a more intimate and exciting dining experience. You can get bench dining tables with a bench and chairs and corner units that save space.
Go industrial with raw, unfinished surfaces
Concrete floor tiles, sandstone paving, polished plaster, and exposed brickwork are great ways to give your home an industrial vibe. Pepper in metals and unfinished woods, and you have the makings of a stylish, contemporary home.
Choose vintage items over brand-new
Although the latter option can be expensive, you can find vintage items like lampshades, furniture, and décor at charity shops, car boot sales, and antique dealers. Choosing vintage is a great way to give your home a unique personality.
Elevate your hallway with a swanky banister
Your hallway is the first impression most people have about your property, so it makes sense to make it unique. Glass panels instead of balusters, aluminium rails with tension wire, and wrought iron staircases are fantastic options.
Seek out sustainable materials
Natural paints made from biodegradable materials like plant extracts, vegetable textiles, natural flooring, and lime plaster are all sustainable. You could also go for a natural mattress to reduce your carbon footprint.
Make walls fancy with cladding
Timber cladding is perfect for interior walls like hallways, bedroom feature walls, and dining rooms. Double-raised and shaker cladding is the most popular style for complete coverage, or you can go for half panelling.

Pictured: Picasso 4FT 6 Double Fabric Bed Frame – Grey showcased against a Double Raised Feature Wall Panelling. Available from Bedstar, The Online Bed Superstore.
Embrace sculptural furniture to bring spaces to life
Furniture with flowing shapes, contours and interesting geometries is ideal for bringing areas alive. You can introduce motion and grandeur to any room with furniture that feels like it is part of your soul and personality.
Spray your window frames and doors anthracite grey
UPVC and timber-framed windows and doors can be spray painted professionally, giving the exterior of your home a fresh new look. The most popular colour is RAL 7016 anthracite grey, and most professional sprayers provide a 10-year guarantee.