The popularity of spaces that mesh indoors and outdoors is rising. People want indoor-outdoor spaces for kitchens, living spaces, and even office spaces. This results in a high return on investment for indoor-outdoor space projects. The keys to creating a successful indoor-outdoor space include linking areas, temperature control, and privacy features. With those key elements in mind, you need to consider what construction and lawn tools, materials, and expertise are necessary to build your ideal outdoor-indoor space. Use these seven indoor-outdoor space considerations to guide you in designing your project.
Create Cohesion in the Space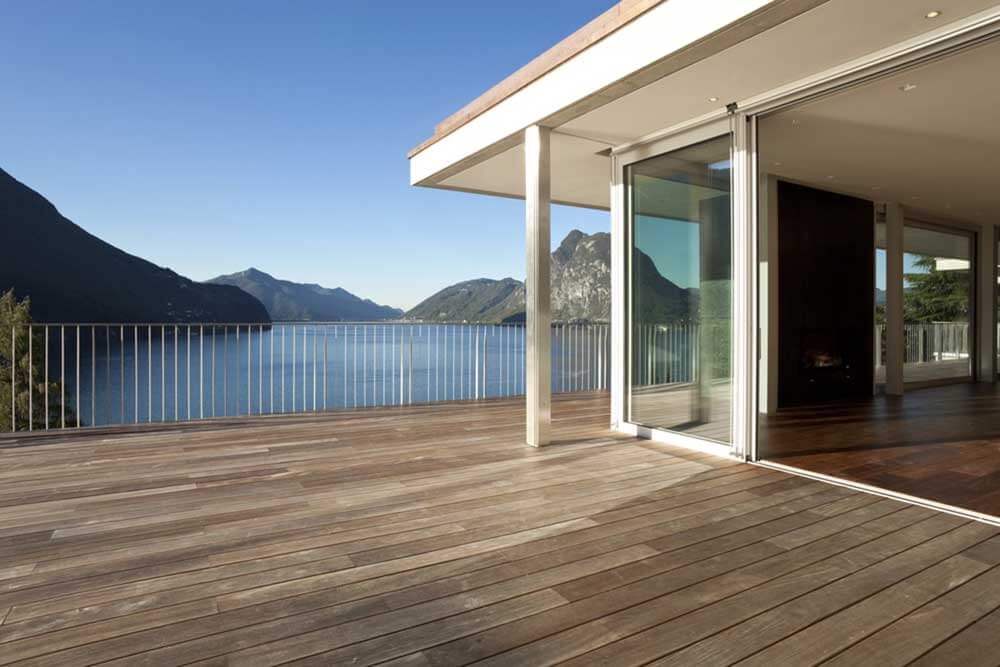 One of the biggest design challenges with indoor-outdoor spaces is creating cohesion in the transition from indoors to outdoors. To successfully create a cohesive transition between the two areas, consider using the same flooring, controlling natural light, and using one color family throughout.
1. Flooring dictates flow
The continuous finish of an inside floor that extends outside draws the eye out and creates a feeling of cohesion in the space. Whether it is tiles or decking, the outdoor flooring needs to be water-resistant and UV-resistant to ensure its longevity. You can also play around with the stark contrast between indoors and outdoors by using dramatically different flooring in your indoor vs. outdoor space. As long as the design choice is clearly intentional, this look can help you create two distinct atmospheres within one large entertaining area.
A bold transition from light hardwood to a concrete floor creates a beautiful opposition of industrial vs. Scandinavian minimalism. Think about the tools and equipment you'll need to realize this vision, whether that's a concrete mixer for pouring a solid concrete floor or high-quality tile tools for laying out an eye-catching mosaic pattern on your patio. Getting the right tile cutters, adhesives, and leveling systems is essential for doing the job right the first time.
2. Control natural light
A significant change in natural light from inside to outside breaks up the space, hurting cohesion. There are two main ways to solve this issue: bringing natural light inside or creating shade outside. If you prefer to bring natural light inside, replace solid walls with large folding windows, sliding doors, and bi-fold doors. The option you choose depends on how much of an opening you want from the inside to the outside. Creating shade for an outdoor space is great for indoor-outdoor spaces in warm climates. A pergola built onto the house gives the impression of an outdoor room and provides shade for the outdoor space. Retractable sun canopies are a less expensive option.
3. Keep a consistent color family
A cohesive indoor-outdoor space relies as much on visual differences as it does on a lack of physical barriers. Your indoor and outdoor color scheme should all be in one color family or color temperature. Color families are broken up by color temperature, including warm colors, cold colors, and neutral colors. If your interior is primarily one temperature, use other colors of the same temperature for the exterior. Generally, warm colors energize, cool colors relax, and neutral colors can elicit anything from sophistication to feelings of nature. Your color choices shouldn't vary too much from the color scheme of the rest of your home.
Design for Temperature Control
A well-designed indoor-outdoor space will account for the variations in temperature that come with day-night cycles and all the year's seasons. Whether or not your outdoor area has a roof determines what temperature control options are appropriate for your space.
4.Temperature control for roofed spaces
If your indoor-outdoor space is a roofed balcony or patio, then you can use smart ceiling fans and remote control skylights to keep the space cool. Smart fans continuously monitor the air and turn it on at predetermined temperatures. You could also outfit the edges of the roof with automatic screens that descend to create shade during the daytime. To keep warm in the colder months, consider adding a recessed fireplace to one of the walls. Automatic screens can be lowered to keep the heat in as well.
5. Temperature control for open spaces
If you are designing an outdoor space without a roof, you should use tall plants, table umbrellas, a fire pit, and outdoor space heaters to make it comfy all year long. Plants and trees cool a space by providing shade and through a process called transpiration cooling. Transpiration is when water vapor exits plants into the air and cools off the surrounding area. Fire pits and outdoor heaters are essential when you live in cooler areas. Consider where you want your space heaters during the design phase of your indoor-outdoor space so you can build outlets nearby.
Balance Privacy and Open Design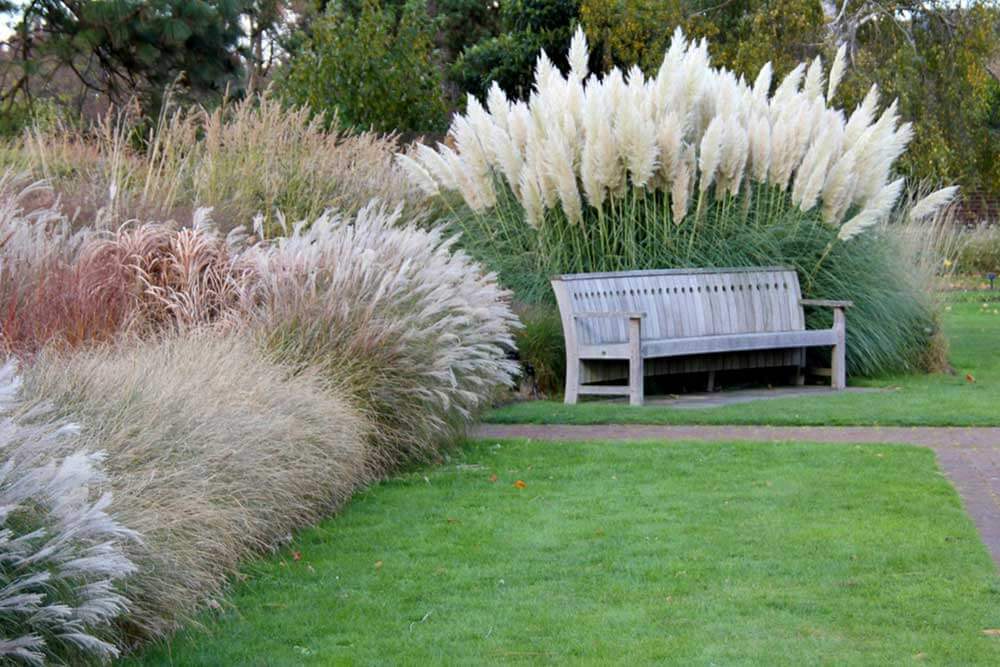 The point of an indoor-outdoor space is to reduce barriers and open up your home to the outside world. This needs to be balanced with a comfortable amount of privacy. A couple of ways to accomplish this is with low-profile privacy and suspended greenery walls.
6. Low-profile privacy
There is something intimate and comfortable about sitting down in a private space while outside. Ornamental grasses and columns of plants can be used to create 3- to 4-foot high organic barriers to segment off a seating area by a fireplace or outdoor dining table. These options require consistent upkeep, so if you prefer minimal lawn care, go with a low-profile fence.
7. Suspended walls
If you want to keep your space open while blocking a neighbors' view, hang potted plants to create a greenery wall. Consider the height of other barriers throughout your space and match how far down your greenery wall goes to the other barrier's height. This layered privacy approach stops outside eyes from prying while keeping your open space free-flowing.
Make Your Indoor-Outdoor Space Your Own
While these seven considerations are important to keep in mind when designing your space, it is best to make style choices that align with your vision. As long as you cover the functional aspects of an indoor-outdoor space like temperature control, the design features allow you to unleash your creativity. Play with natural light, color schemes, flooring styles, and privacy features to create an indoor-outdoor space that meets your needs.